Chapter 21

Chapter Links

Korean
Naver
English
LINE

Chapter Details

Volume
1
Arc
Get Into Gear
Chapter
21

Release Date

Korean
January 23, 2014
English
October 24, 2014

Navigation

← Chapter 20
Chapter 22 →
​This is the 21st chapter of the webtoon, The Gamer (Webtoon).
Part 1: Main story
Edit
Kwon Shi-Yun tells Han Jee-Han that she needs to talk to him and move quickly to another area. In their way to the roof, Kwon Shi-Yun explains that illusion barriers that stop time last a brief moment. Once on the ceiling she begins to question him information about Hwan Sung-Gon and why he is collecting soul stones. Han Jee-Han denies any allegiance or knowledge about Hwan Sung-Gon's plans. Before leaving, Kwon Shi-Yun warns Han Jee-Han to avoid going into Hwan Sung-Gon's barriers since they will be destroyed pretty soon.
Part 2 : What if Gamer's world was another game.......dating simulation episode.
Edit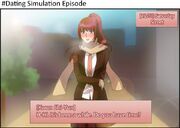 Han Jee-Han picks Kwon Shi-Yun as her first date but ends up failing the conquest since she did not even paid attention to him.
Poong Sae-Young is chosen as the second date at an amusement park. She ends up dragging him to every single ride to which he decides to quit and ends up failing the conquest.
Part 3: What if all the characters where opposite gender? The Gamer Girl
Edit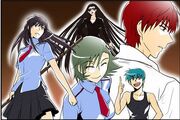 An overview of the first chapters with the gender bender counterparts in a more comical tone.
Characters
Edit
None
Abilities
Edit
This is the first chapter where the author of The Gamer introduces two alternate stories.